Online Shopping: Software, Books Created by Ion Saliu

You can buy here the best software in its class. Paid membership is required in order to download this collection of software. The membership fee is negligible when compared to similar software titles. Without a bit of a doubt, the multipurpose software you download here is far superior to any products in similar categories. All other software applications elsewhere only give you number frequency and a few prepackaged lotto wheels — some asking you to pay US$200! You will find here software and systems for lottery, lotto, pick 3 4 lotteries, Powerball, Mega Millions, Euromillions, Keno, horse racing, blackjack, roulette, sports betting, gambling, probability, odds, statistics, mathematics ... How more could you ask for? Moreover, some of the software titles you find here are absolutely unique. You will not find similar programs anywhere else — regardless of prices.
It is NOT a contradiction in terms. The software you download is FREE for you to use during your lifetime. This one-of-a-kind software collection has no crippled features, and no strings attached. The programs are not shareware: They are totally freeware. Please visit the download-membership page and read all terms of service: Download Great Free Software: Paid Membership Required. Pay safely online via PayPal —


Probability Theory, Live! at Amazon.com
The book represents the most thorough introduction to the Theory of Probability, a branch of mathematics. The presentation is scholarly precise, but in an easy-to-understand language.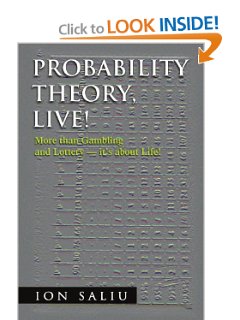 Probability Theory, Live! [Paperback 2010] via Squidoo
Probability Theory, Live! [Paperback 2010]
Probability Theory, Live! [Hardcover 2010]
Probability Theory, Live! [Kindle Edition]
Probability Theory, Live! [Paperback 2012] via Squidoo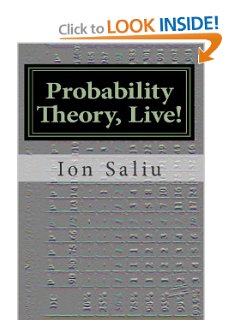 The book is a lot more than gambling and lottery! The author, Ion Saliu, has made important discoveries in probability theory and mathematics in general. For example, the most natural way to calculate e (the base of the … natural logarithm).
Probability Theory, Live! [Paperback 2012]


Socrates Home

Search
Download Free Software

Super Forums

Software